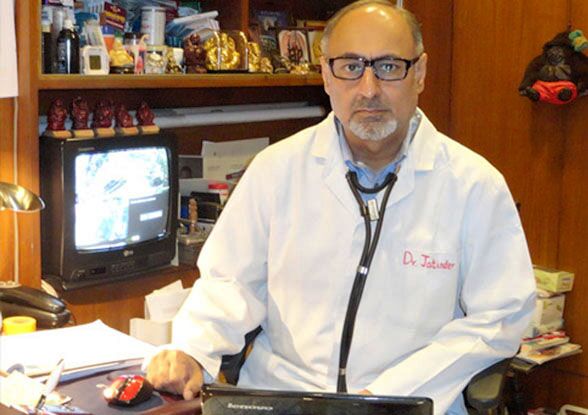 Dr. Jatinder Juneja is a certified Internist and Rheumatologist in Delhi who specializes in the diagnosis and treatment of the spectrum of adult Rheumatologic conditions. Compassionate. Excellent clinician. Good listener. Meticulous. Great sense of humour. Open-minded. Attentive. Progressive. This is how patients and colleagues describe him.
Dr. Jatinder Juneja is a respected arthritis specialist in Delhi. He studied his MD (Rheumatology) from L.T.C.M. Hospital, London and later worked as Consultant Rheumatologist in same hospital. He worked as Senior Consultant and Director Board of Trustees at the Liu Academy of Medical Sciences. He is a member of many prestigious clubs like Indian Medical Association, Delhi Medical Council etc. He has also served on the Executive Board of the Arthritis Foundation and as a past President of the Lupus Foundation. He is also Chief Consultant of National Institute of Arthritis, New Delhi.
Special Honours:
Honorary physician and Rheumatologist to the Former President of India.
Membership of Professional Societies:
Indian Medical Association (WTB)
Delhi Medical Council
Punjab Medical Council
Member of Council, Royal Society of Medicine (UK)
Member British Postgraduate Medical Foundation
Membership of other clubs:
Northolt Green Golf Club, London
Member Worshipful Society of Apothecaries, University of Dundee
Delhi Rifle Club
Activities in Public Affairs:
R.S.P.C.A (UK)
Involved in charity work/functions/fundraisers for social causes
Actively involved in research of newer anti-pain pharmaceutical molecules and conducting trial studies for the same – for introduction into India. Working in this field in close co-operation with many multinational pharmaceutical companies. Has already been instrumental in launching 3 such Cox-2 Inhibitors molecules recently.